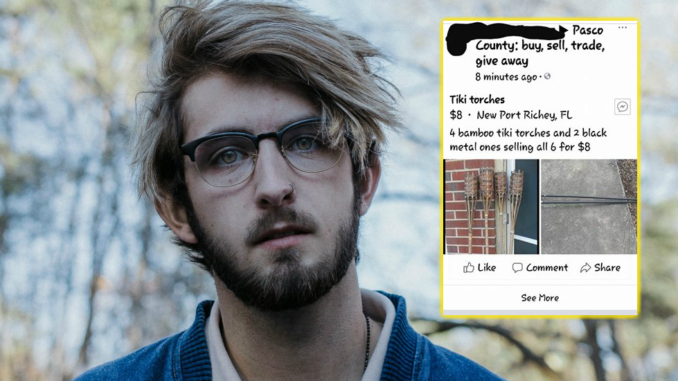 NEW PORT RICHEY, FL –
An anonymous New Port Richey resident has posted 8 tiki torches for sale in a Pasco County buy-and-sell Facebook group. The very white yet inclusive man, who wished to remain anonymous, was unsure why he was having such a hard time selling the tiki torches.
He explained,
These aren't your typical tiki torches. These are the highest quality. When it comes to tiki torches, they are some of the best. I'm really dumbfounded as to why I haven't gotten any offers for them. I've only gotten one low-ball offer from some weird group from Moon Lake that calls itself 'The Clan'. What is this, World of Warcraft?
If you are interested in purchasing the tiki torches, the man can be found at the Pasco Racial Diversity and Equality Club, which meets at booth #105 at the USA Fleamarket in Hudson on Wednesday evenings at 6:00 PM, where he lectures on the emerging science of neo-feminist utopian dance theory.
Facebook Comments