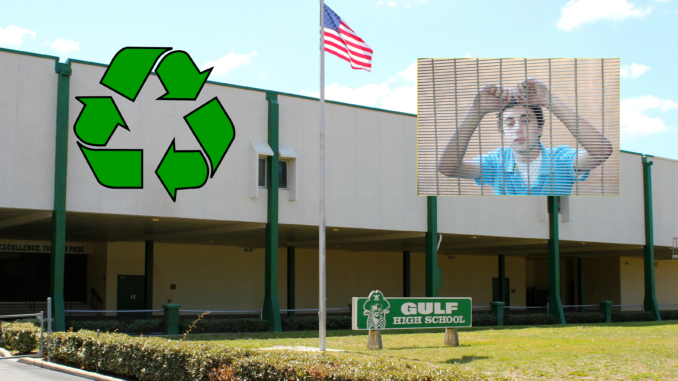 NEW PORT RICHEY, FL –
The New Port Richey Police Department has created a juvenile detention center directly inside of Gulf High School in an effort to reduce carbon emissions from police cars.
New Port Richey Chief of Police Kim Bogart announced Wednesday that the new juvenile detention center is a part of his department's revamped environmental efforts.
New Port Richey Chief of Police Bogart
We ran the numbers and found that we could cut carbon emissions by 67% by building a detention center directly on-site at Gulf High. Now our officers will escort the students to their cells on foot rather than by car. This will save our department significant time, gas, and money, while simultaneously shrinking our carbon footprint.
While local environmentalists are applauding the new green efforts of the New Port Richey PD, public health officials are also touting the public health effects of the installation. The installation will significantly help the obesity epidemic among urban youth by forcing them to engage in walking exercises to the detention center.
Obesity expert Linda Graham explained the health benefits of the new installation at a recent press conference.
Obesity Expert Linda Graham at Tuesday's Press Conference
Our calculations show that students walking to the detention center, rather than riding a car, will cut approximately 300 calories, and will help increase cardiovascular health for the delinquents that enter the center.
Construction on the new juvenile detention center will begin in November and is expected to be completed by the end of December.
Facebook Comments