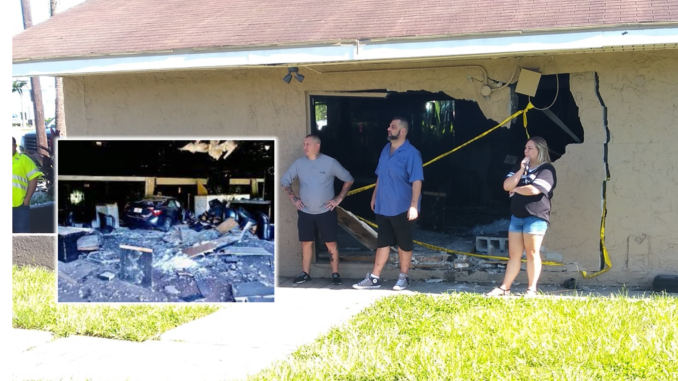 PORT RICHEY, FL –
One year after claiming responsibility for setting fire to a Hudson strip club, 'All Wives Matter' activists took responsibility for crashing a car into the Desire strip club in Port Richey.
Witnesses say they saw a middle-aged woman speeding towards the club in a black sedan with the word 'FIDELITY' displayed on the front license plate on the morning of Wednesday, August 9. They claim that they then saw the woman perform a 'Jason Bourne style' last-minute dive out of the vehicle right before it plowed straight through the front side of the building. The unknown woman then allegedly fist pumped the air in victorious fashion before fleeing across Grand Blvd and into the woods.
According to several sources familiar with the organization, 'All Wives Matter' began planning the attack on the strip club shortly after setting fire to Icon Gentlemen's Club in Hudson on July 6, 2020.
'The activists were emboldened by the subsequent closing of Icon after setting fire to it. They are undoubtedly hoping that 'Desire' likewise closes as a result of the damage they've inflicted.'
According to marriage experts, the delay in business caused by the damage has led to an overall increase in martial happiness and contentment in the Port Richey area in the weeks since.
Facebook Comments