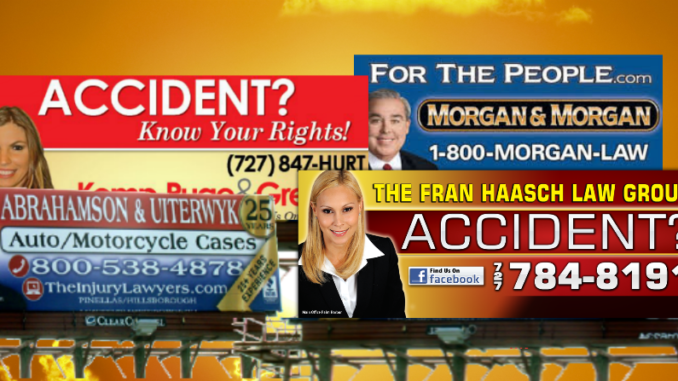 PORT RICHEY, FL –
On Monday, yet another injury law billboard was erected in Port Richey, creating a wall of billboards that entirely blocks out the sun's rays at dusk. As the number of injury law billboards in its skyline has grown to absurd proportions, more and more of the Port Richey skyline has been replaced by injury law advertisement billboards. And now, due to the newest addition, Port Richey residents can now to see a total eclipse of the sun every evening.
Port Richey native, Michael Farfalle, said that the solar blockade in the Port Richey sky provides a unique experience for Port Richey residents.
"When most Florida residents look up at the dusk sky, they see beautiful natural colors and mindblowing sunsets. But let's admit it – that gets boring after a while. In Port Richey, we look up and we see bright eye-grabbing marketing advertisements for injury law attorneys. The insane amount of injury law billboards in Port Richey differentiates us from every other place in Florida. It makes us exciting and unique."
He also added that he was "super stoked" to experience a solar eclipse every evening due to the billboard blockade.
Plan on viewing the eclipse? While experts agree that you should wear solar-specific protective eyewear whenever viewing the billboard eclipse, local injury law attorneys have suggested that there is no need to do so. They also recommend calling them if you experience any ocular damage after viewing the eclipse.
Facebook Comments