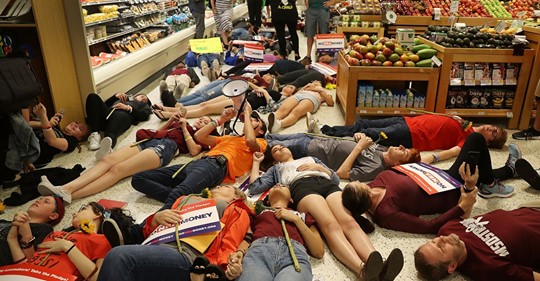 NEW PORT RICHEY, FL –
Publix – where planking is a problem.
On Wednesday, Publix posted a polite plea for prospective planksters to postpone their planking plans.
The common-sense request comes after hundreds of local hooligans resurrected a prank known as "planking", involving lying down still on the floor. While the plank-pose has historically been performed outdoors and on conspicuous places like ledges, a recent movement is encouraging pranksters to plank on the floor in the produce section of Publix stores, presumably in an effort to physically obstruct elderly shoppers from accessing nutritious fruit and vegetables.

Publix CEO Todd Jones issued the request on Wednesday from the company's Lakeland headquarters.
Above all else, we want to ensure our stores are a safe place for our shoppers. That's why we are requesting that people please stop the obtrusive planking on our floors. They pose a serious trip hazard for our customers, and a significant cleanliness issue for our floors. All of our customers have the right to shop for the basic necessities of life without the danger of possibly tripping over a human being.



The warning came after a several planking-related injuries in recent weeks, in which innocent Publix customers suffered horrific injuries while trying to shop for food items. In one case, an 87-year old woman with a potassium deficiency broke her ankle while attempting to reach for bananas. In another case, a decorated WWI veteran suffered severe whiplash when his electric shopping cart crashed into a prankster who was planking in front of an avocado display.
In order to ward off the problematic pranksters, Publix stores will receive industrial-grade floor machines which have been specifically designed to physically dislodge even the most dedicated planksters from their sales floors.
Facebook Comments