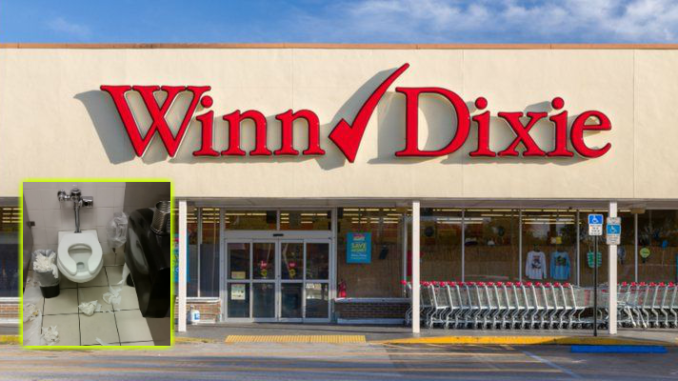 HUDSON, FL –
Winn-Dixie's popularity is spreading wildly in the area due to a new, unique offering. The Hudson location is now offering free Hepatitis-A inoculations in its public restrooms, giving Hudson residents a huge, deep cut on the price of their healthcare.
According to the Winn-Dixie public affairs committee, the move was made in order to save time and money on restroom maintenance, while also increasing the benefits to Winn-Dixie customers.
We are always striving to provide more exclusive benefits to our valued customers. In our mission to become the one-stop-shop for all necessities of life, it only makes sense that we would provide immunizations to our shoppers. This is the first of its kind to be offered in the competitive grocery market. This will increase privacy and ensure efficacy of the dosage. The customer may increase or decrease the dosage to match their specifications, in the privacy of a restroom stall.
To redeem your free Hepatitis-A immunization, all you have to do is use one of the restroom stalls. Washing your hands in the restroom will have no effect on the immunization, so feel free to wash up afterwards if you feel the need.
Winn-Dixie is even offering a guarantee on the efficacy of the immunization.
If you don't receive a mild form of Hepatitis-A after using one of our restrooms, we ask that you would kindly inform one of our managers, and we will gladly provide you with a complimentary rotisserie chicken. We exist to serve our customers, so if we can't provide a highly-contagious disease at a non-existent price, in the context of our restrooms, we have failed miserably in our mission and service.
Winn-Dixie is testing the offering in the Hudson location before rolling it out in other stores.
Facebook Comments