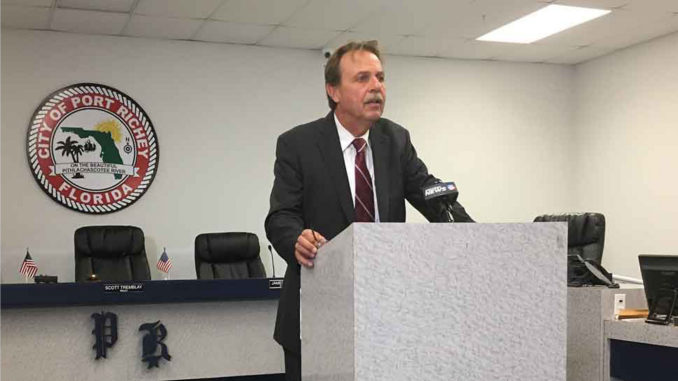 PORT RICHEY, FL –
Pasco county lawmakers were shocked to learn that dissolving the city of Port Richey will not also dissolve the people currently living in Port Richey.
On Monday, the locally-renown human rights organization, Peace in Pasco, announced that the the Florida National Guard offered a written guarantee to protect the citizens of Port Richey in the event that Port Richey itself is dissolved. Peace in Pasco released a statement outlining the National Guard's promise.
Thanks to our diligent humanitarian advocacy, the citizens of Port Richey no longer have to worry about being eliminated along with their city. No one should have to lose their lives simply for living in a terrible place. We want these people to know that their lives are infinitely more valuable than the property values in their ZIP codes. It is for this reason that we have petitioned the Florida National Guard to protect Port Richey residents in the event of a dissolution of their truly awful city.
According to the plan, in the event of a Port Richey dissolution, the Florida National Guard will deploy 2,000 armed soldiers to the former Port Richey area. The soldiers would provide 24/7 armed security to the nearly 3,000 inhabitants of the area for at least 2 months. The resolution states that the deployment and stationing of the soldiers has the intended effect of "deterring hate crimes, forcible relocation, and other unspeakable atrocities being plotted by Pasco county officials."

According to reports, Representative Amber Mariano and Senator Ed Hooper, the main proponents behind dissolving the city of Port Richey, were "furious" after reading the resolution.
Later in the day, the Port Richey Dissolution Caucus released a statement following the breaking of the news.
To say we are disappointed is an understatement. When we first proposed dissolving Port Richey, every single one of us understood that to include the people living there too. This recent setback will not stop us in our quest to completely obliterate everything that is Port Richey.
Pasco lawmakers, determined to erase any shred of Port Richey's existence, are expected to challenge the humanitarian protection by declaring the Geneva Convention "null and void" in the Port Richey area for a period of 6 months.
Facebook Comments