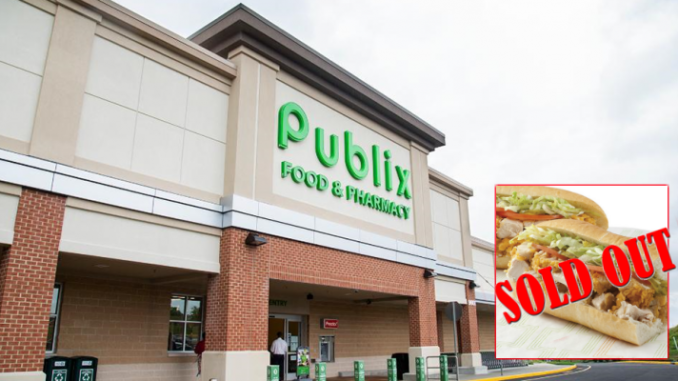 NEW PORT RICHEY, FL –
What started off as slight fear of a foreboding Hurricane has evolved into sheer panic for Floridians as Publix announced Saturday morning that all of its Florida stores have run out of Pub Subs. Many Floridians were blown away by the news.
Publix CEO Todd Jones made the unfortunate announcement at a press conference on Saturday morning at the company's Lakeland corporate office.
It is our goal at Publix Supermarkets to provide our communities with much-needed basic necessities during times of crisis. Today, we have failed in that regard. We tried implementing strict limits of 3 per-person earlier in the week, but despite our best efforts, we are completely out of our Publix deli subs. It is our understanding that other local grocers have somewhat edible sandwiches for our customers to try. We don't expect forgiveness, but we do hope to regain our customers' trust after these physical and emotional storms have passed.
According to local sources, Floridians began storming Publix stores as soon as news of the storm broke, desperately trying to hoard enough pub subs to get them and their family safely through the storm. But as the week went on, the stores' usually copious supply of meats, cheeses, and condiments were thoroughly depleted, along with the hopes of survival for many local families.
New Port Richey resident and mother-of-four, Henrita Burdock, tearfully recounted the panic that ensued at a local Publix as the news broke.
All the people were pushing and screaming, trying to grab a ticket from the dispenser so claim their place in line. I was prying some old lady's fingers off the dispenser when the deli manager made an announcement over the intercom that they were totally out of sub ingredients. After that, it was sheer chaos. People started wailing. I heard gunshots. Frantic people tried climbing over the deli counter, and the workers had to beat them off with their baguettes. It was insanity.
Like many Florida residents, Burdock is unsure how her and her family will survive in the coming days without access to the sandwiches.
Florida Governor Ron Desantis laid out the following alternatives for hungry Floridians following the news of the pub sub outage.
Every Floridian who likes good sub sandwiches is now faced with a crucial choice. Either drive north and get a pub sub from a Publix in another state, or starve. There are literally no other options. You must act now. For the sake of your and your family's appetite, leave now.
Desperate Floridians also have the choice of purchasing a pub sub on eBay, where price gougers in other southeastern states are listing freshly-made pub subs packed in dry ice. A chicken tender sub listed on Saturday morning sold for a bid of $449.
Facebook Comments