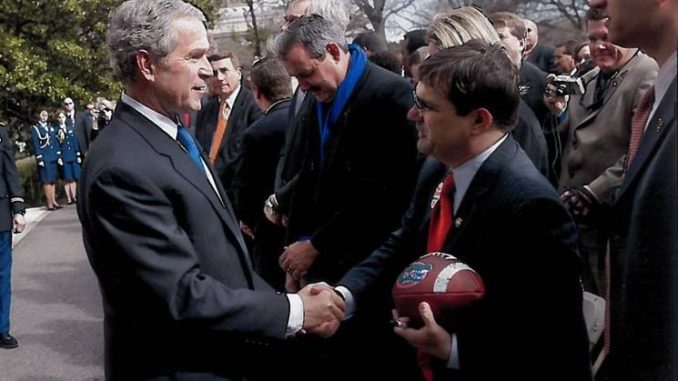 On Friday, representative Gus Bilirakis happened to meet former president George W. Bush in Washington DC. However, he mistook the former president as Tim Tebow, former quarterback for the Florida Gators. Witnesses say that when he saw George W. Bush, he ran to his car to get his Florida Gators football. He hurriedly shook Bush's hand and tried to hand him the football and a sharpie, saying "It's a pleasure to meet you Mr. Tebow." Purportedly, George Bush just stared at Bilirakis and did not sign the football.
Witness Julia Reinhardt said that the incident was "incredibly awkward to everyone except Bilirakis." She claimed that after president Bush walked away without signing the football, Bilirakis said, "Wow, what's gotten into him?" Bilirakis then took to Facebook to theorize.
"I think Tebow is still sore from losing to the Pats in the playoffs. Tim, if you're reading this, we all go through embarrassing times in life, but what counts is your ability to rise above it.
(PS – Please send signed UF football to 7132 Little Rd, New Port Richey, FL 34654)."
Facebook Comments