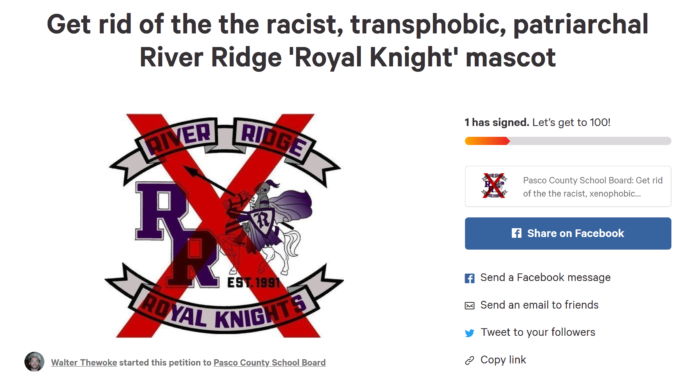 NEW PORT RICHEY, FL –
Local activists are urging the Pasco County School Board to get rid of River Ridge's 'Royal Knight' mascot.
Members of the Pasco branch of the activist organization Enforcers of Tolerance have been persistently petitioning the Pasco School Board to change the mascot, which they decry as xenophobic, for nearly 2 weeks.
However, earlier today they made history.
They launched an official change.org petition to get the name changed.
Linda Thorne, a longtime member of the Enforcers of Tolerance underground activist organization, explained the rationale behind the petition.
It's time to speak truth to power. There's nothing 'cute' about Royal Knights. They all owned slaves. They were all Christians. They all hated women and trans people. They all opposed a single-payer healthcare system. Literally why would anyone want a white, Christian, cisgendered, heterosexual man to symbolize your school?
While none of the 4 Muslim students who attend River Ridge Middle and High Schools have complained about the mascot, activists believe that their silence is further evidence of their internalized oppression.
If the petition is accepted, it would allow certain segments of the minority student population to vote to decide on a new, more tolerant mascot.
Facebook Comments