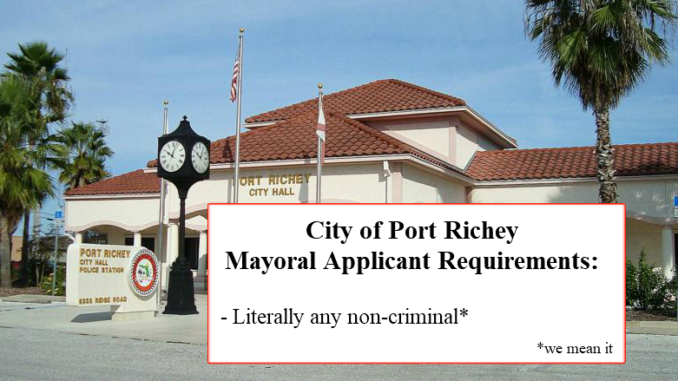 PORT RICHEY, FL –
In an effort to attract qualified applicants, the City of Port Richey condensed the requirements listed on their Monster.com job posting for City Mayor to a single sentence that reads, "literally any non-criminal."
Previous qualifications included factors such as age, residency, and political prowess, but due to a recent turn of events, City officials felt the need to significantly reduce those qualifications.
Port Richey City Manager Vincent Lupo explained the City's decision.
We wanted to remove any possible barriers to entry for any law-abiding citizens who wished to apply. Qualifiers such as experience, age, residency, or general competency really don't matter to us at this point. The singular factor that we care about is whether or not Port Richey's next mayor will end up behind bars in a matter of weeks. We'd rather not relive that again.
Port Richey City officials hope to find a new law-abiding Mayor in the next 2 weeks.
Facebook Comments