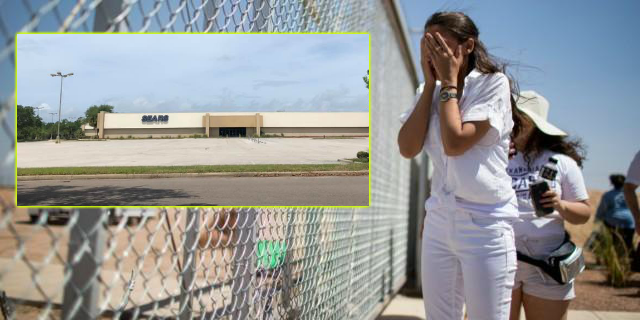 PORT RICHEY, FL –
On Tuesday, Cameras caught US representative from New York, Alexandria Ocasio-Cortez, crying over an empty Gulf View Square Flea Market parking lot.
The original picture published from AOC's official Facebook shows the New York congresswoman crying at a fence. But an undercover Pasco Pelican reporter managed to capture the broader context, which reveals that AOC was actually crying in front of the desolate Gulf View Square Flea Market. Many have criticized AOC over the picture, saying that photoshoot was simply political posturing. But according to AOC, she was crying over the squalid conditions inside of the flea market.
There are probably about 7 innocent people inside of there, shopping in absolutely inhumane, deplorable conditions. They are literally forcing people to drink toilet water out of the water fountains. Gulf View Square Flea Market has become a symbol of poverty and shattered dreams in the Port Richey community. Something has to be done.
When reporters asked Ocasio-Cortez why she was weighing in on a Port Richey issue when she is a New York congresswoman, she replied that it was because of the over-represented New Yorker population in the Port Richey area.
Facebook Comments