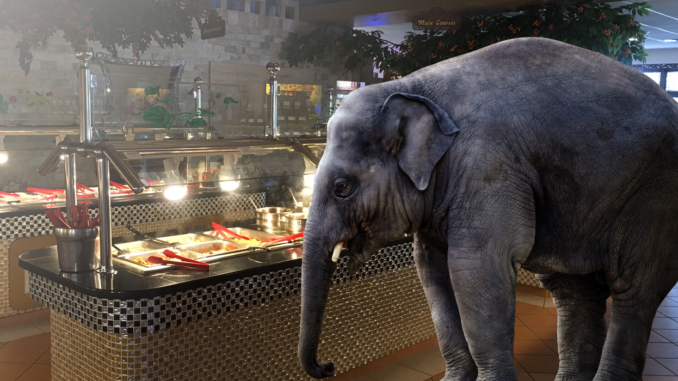 PORT RICHEY, FL –
A local Port Richey Chinese buffet has added a live Asian elephant to their staff.
Port Richey's 'Republic of China' buffet added the elephant in hopes of adding a unique Asian flare to their restaurant. The elephant, which has lovingly been named 'Errie' greets customers at the entrance with a friendly snort, and accompanies them to the buffet area.
The buffet owner, Won Thang, stated that his desire to add 'something authentic' to their restaurant is what prompted him to hire the elephant.
Ever since people realized that the fortune cookie is not really Asian, we've been struggling to draw people in who are looking for a truly Asian experience. Our beloved Errie makes our customers feel like they're really in China, where live elephants roam freely.
Pasco officials said that while they would not normally allow a live elephant into a food-service establishment, they are willing to make an exception due to the dwindling Asian elephant population. They stated that integrating Asian elephants into the service industries will give them the opportunity flourish in society, and hopefully help to preserve their species.
Facebook Comments