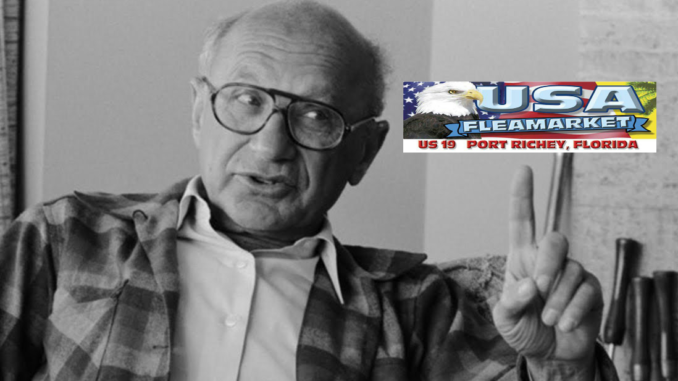 On Friday, world-renowned economist Milton Friedman predicted that the US economy will crash in a matter of months due to the Hudson USA Flea Market closure.
 Friedman explained, "I don't think most people recognize the importance of what has happened. The USA Flea Market in Hudson was the center of commerce for Tampa Bay. If you think Wall Street was big, you should have seen the business that was generated in that little gem off of US-19."
He explained that the stock market drops in recent weeks can only be attributed to the Hudson flea market being closed. "And expect it to get worse", he warned. He said that the only way to survive the coming financial fallout from the flea market closure is to convert all of your fungible assets into flea market-style commodities. "After the inevitable collapse of the dollar, the new currency will be anything from used video games and pocket knives, to custom-printed T-shirts. The only way the US can survive the 'flea market fallout' is for the US to become a flea market itself."
Friedman also predicted that the coming catastrophe can be expected anywhere from six to ten months after the closing of the flea market, which occurred on June 14, 2017.
Facebook Comments